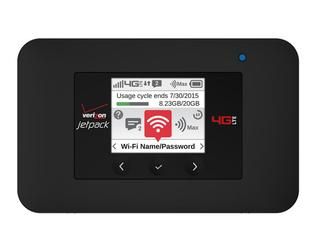 Verizon Jetpack 4G LTE Mobile Hotspot AC791L - PCMag.com
Người viết: Nhật Quang lúc
PROS

Fast, consistent 4G LTE speeds. Long battery life. Charges external devices. Can be used abroad.

CONS

Somewhat sluggish capacitive buttons.

BOTTOM LINE

The Verizon Jetpack AC791L is a fantastic mobile hotspot that doubles as a backup battery.
The Verizon Jetpack AC791L from Netgear ($199.99, or $49.99 with contract) is one of the best mobile hotspots we've tested. It improves upon the excellent Jetpack MiFi 6620L with a longer-lasting battery and the ability to charge your mobile device. When you factor in Verizon's XLTE network (which we rated as the best in the nation in our Fastest Mobile Networks testing) and a strong selection of global roaming bands, this is a great hotspot for business users in both the U.S. and abroad, and our new Editors' Choice.
Design, and Features

The Jetpack AC791L is small and sturdy. With dimensions of 4.3 by 2.7 by 0.8 inches (HWD) and a weight of 5.8 ounces, it's a bit bigger and heavier than the MiFi 6620L (2.6 by 3.7 by 0.8 inches and 4.76 ounces), but it's still easy to slip in your pocket. When I was carrying the device around during New York Comic-Con, I never felt burdened by its size.
The hotspot is covered in smooth matte black plastic with rounded edges and a soft-touch back. A 1.77-inch TFT LCD sits on the front of the device, with capacitive navigation buttons below it. The Power button is located up top, and a port is on the bottom. The bottom is also home to two sliding flaps with dual TS-9 connector pins, allowing the Jetpack AC791L to fit accessories like an antenna. The removable back panel covers the 4,340mAh battery and the SIM card slot.
All you have to do is hold down the Power button for two seconds to turn the hotspot on. Once powered up, you can check its Wi-Fi name and password, see all connected devices (the Jetpack supports up to 15), check your data usage, access the Settings menu, switch between 2.4GHz and 5GHz Wi-Fi, and turn the hotspot into a backup battery. That last feature is especially welcome: If your phone is dying, you can use the included cable to connect it to the Jetpack, which will charge your phone for a determined amount of time, or until the hotspot's battery dips down to 25 percent.
You can set up a VPN for the hotspot so any device that connects will automatically use it, sparing you from having to configure your laptop, phone, and tablet individually. You can set up a protected Wi-Fi connection and add a guest network on the hotspot itself, but you can't change the Wi-Fi name and password without accessing the settings menu in a connected Web browser or using the free Netgear AirCard app for iOS and Android.

The Jetpack's capacitive buttons can feel a little sluggish at times, but for the most part, they're functional and easy to use. I was able to scroll through menus and poke around the on-device settings without any issues.
Network Performance and Battery
The AC791L supports Verizon's network in the U.S., along with bands for global roaming in over 200 countries. That's the same as the 6620L, which means the hotspot is a decent choice for traveling abroad, though you'll only get quad-band EDGE and HSPA connectivity in other countries and not LTE.
I tested the AC791L against the 6620L in Manhattan, and speed and range were excellent on both devices. 2.4GHz upload and download speeds were a bit faster on the AC791L, while the 6620L had a slight edge on the 5GHz band. Range of the two devices was also roughly on par; the AC791L occasionally seemed to offer a stronger signal at a greater distance, but this wasn't consistent enough to draw a solid conclusion from.
Battery life is the real reason to get the AC791L. I connected a Samsung Galaxy S6 edge+$899.00 at Verizon Wireless to the hotspot, making sure the phone itself wasn't connected to any network other than the hotspot. I then continuously streamed a YouTube video over LTE until the hotspot's battery died. I clocked 21 hours and 1 minute of runtime, which is the longest hotspot battery result we've seen (the 6620L lasted 15 hours and 17 minutes). During NYCC, I connected the hotspot to my laptop, phone, and camera, using it to file articles, tweet, and upload images. By the end of the day, after close to 12 hours of use, I still had nearly 50 percent battery remaining.
Conclusions
The Verizon Jetpack AC791L is an excellent mobile hotspot if you need lots of battery life to get you through long work days. Performance is on par with the 6620L, so if you already own that, there isn't much reason to upgrade. But if you're looking for a brand new hotspot on Verizon, the AC71L's fantastic battery life makes it our new Editors' Choice.